ICYMI, Grace Hopper is a celebration for women in computing fields which drew in ~12,000 attendees this year. Undergrads, grad students, professors, recruiters, and real adults (not in school) were in Houston last week.
Networking
GHC is an amazing place to network. Speakers included Sheryl Sandberg (of Lean In and COO of Facebook), Hilary Mason (founder and CEO of Fast Forward Labs), and Susan Wojcicki (CEO of YouTube). Apparently there were also guest appearances from Satya Nadella (CEO of Microsoft) and Chelsea Clinton. From networking at the conference I was able to share about my new adventure, Brave Initiatives, a coding camp for girls in Chicago.
I was also excited to meet current/former students interested in grad school. I dispelled myths that grad school was expensive (it's usually free), convinced others that a PhD is the way to go (partly because it's usually free), and encouraged some to pursue HCI as a research field. A friend and I were so motivated that we started brainstorming our Tapia proposals. I loved meeting up with old friends and making new ones!
Career Fair
While I wasn't looking for a job this year, I was happy to see that there were HUNDREDS of companies and organizations. It is encouraging to see that they are taking diversity seriously in their companies, especially after discouraging statistics being published within the past year. I loved hearing how other Northwestern students had 4 interviews lined up in ONE day (yes they offer on-site interviews)! Oh, and might I add that I racked up 12 free t-shirts, 4 mobile battery chargers, 2 headphones, 1 bluetooth speaker, and countless pens and sticky note pads?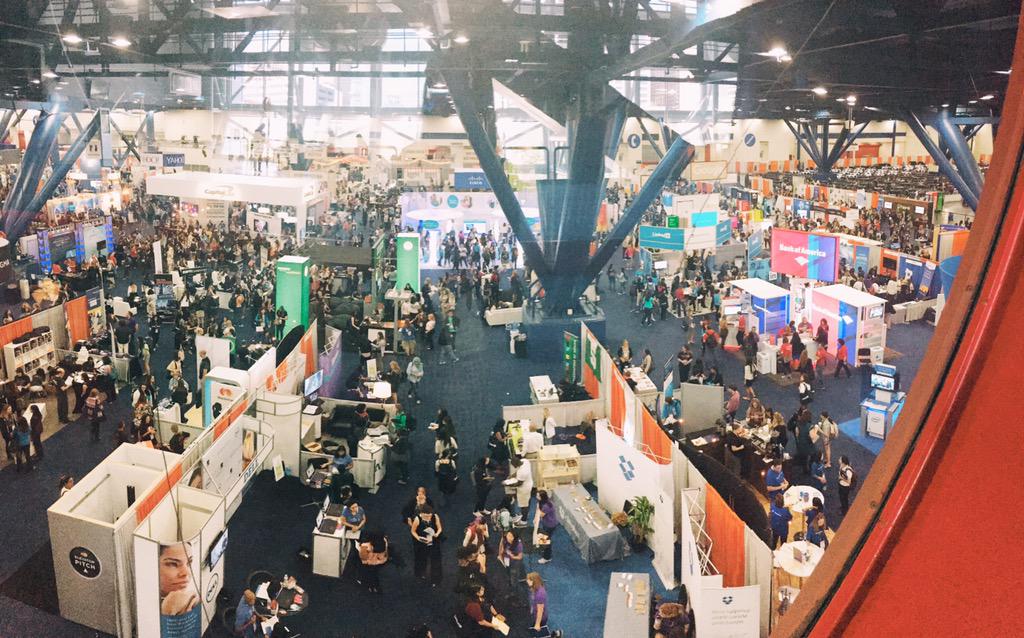 source: @scorbs
Sessions and Panels
Aside from celebrity keynotes and an enormous career fair, there were a wide variety of technical talks, panels, and workshops at the conference. I'm a bit biased but I have to mention the panel I organized called Design for All with panelists from Facebook, IBM, Oculus, and Google. The goal of the panel was to make  attendees more aware of how to design and do research with people unlike themselves – people living in other countries, of different ages, and with different abilities. Before the panel, I learned that it would take place during lunch time so I encouraged the other panelists to invite their friends so the room wouldn't be empty. Not only was the room not empty with more than 500 people, but I heard some stood in line to wait for people to leave so that they could come in! They asked great questions and we eve had a line of ladies at the end of the panel waiting to talk to the panelists.
Conclusion
Overall GHC was a success but I was so exhausted that I didn't have time to post until a few days after. It will be in Houston again in 2016 (they must've gotten a great deal for a two-peat contract) so come next year. That invitation includes guys too!